A professional web presence to validate an individual, business, or organization.
Included in the Basic Plan
Responsive website – looks good on all devices
Your Name or Logo
Custom site design/color based on logo and/or purpose
1 page of content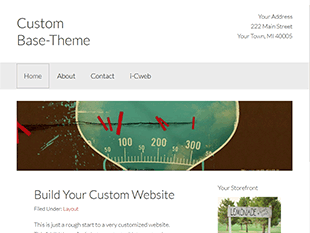 Custom Base Theme is a great start to an advanced website.
View in New Tab
Themes, Design, Style of Your Website
What your site looks like matters to you, whether you admit it or not. It is your face to the online world. My approach, while creating websites that are very inexpensive, is to find out what the pros are doing technically and emulate it. This gives any site a professional feel, a polish. It's amazing what people know without knowing it. Your clients will recognize your online prowess.
---
Fonts, Colors
Synchronize the design of your website with your logo, printed material, your business or organization's marketing.
The color of fonts can be anything like red, blue, or green. There is an infinite variety of colors. Use your brand specific colors in the website's background – bold, in the menu – subtle, in the header, footer – classic.

*Extra content added to the website by me – $35 an hour. Added design elements and functionality will be quoted individually.
---
Get the Basic Plan
*Your name and email is all the form below requires, and then we can talk about your new website.

---
Ready to get your mobile-friendly website? Then just click a link below to purchase and we can get started.
Purchase the Basic Plan for $150. (Pay with a credit card)
Purchase the Basic Plan for $150. (Pay with Paypal)